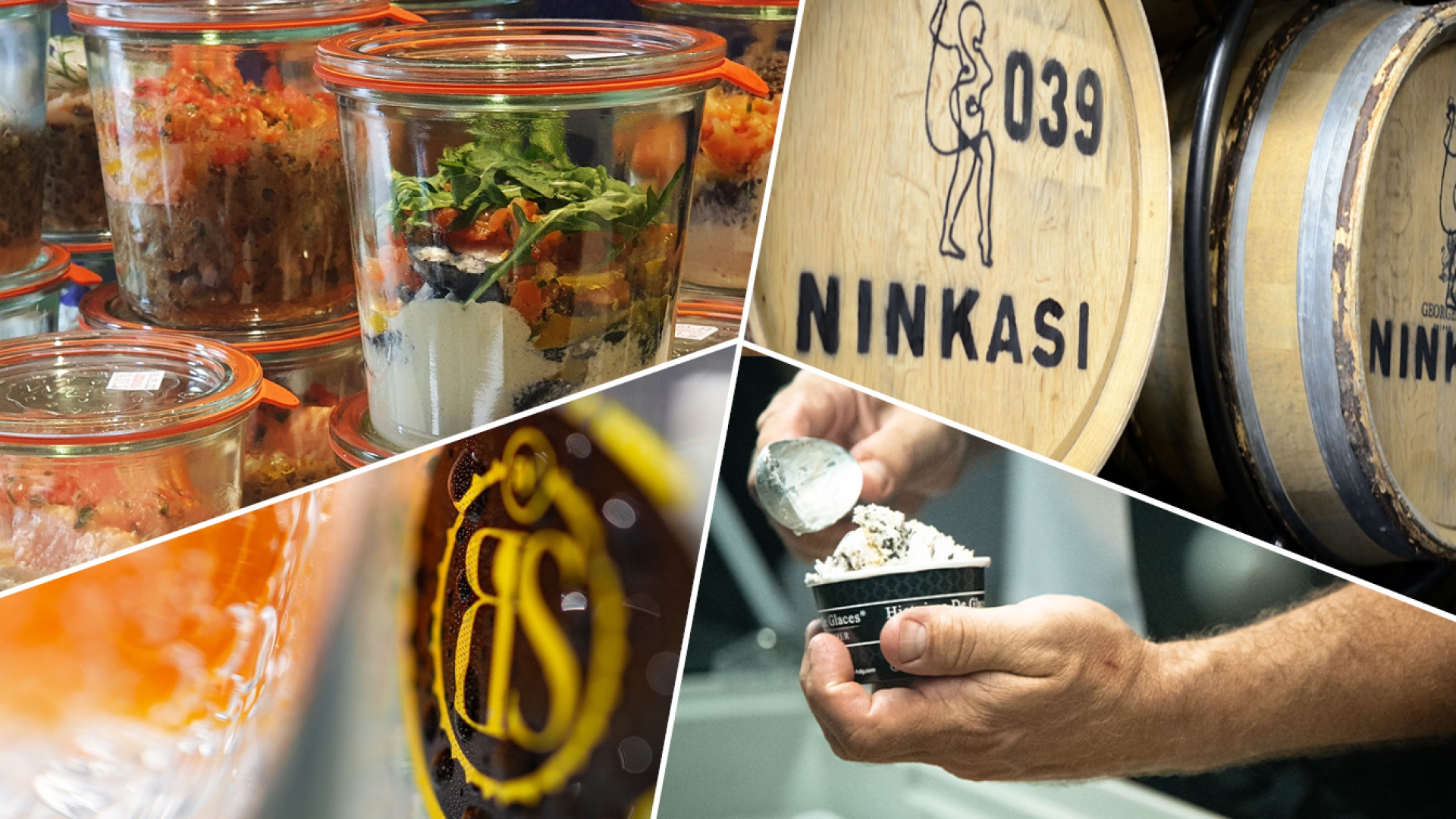 New restaurants & bars
Jazz à Vienne offers an enhanced festival experience with ranges that are in keeping with its philosophy and values. The menu can be enjoyed at the Théatre Antique, as well as in the open-air food court at Cybèle. New, local flavours that are in line with our overarching zero waste initiative and will delight your tastebuds!
Recipes from local chefs, beers from the Lyon region, Savoyard lemonade and iced tea, fruit juices and cordials from the Isère, artisanal ice cream from Reventin-Vaugris, Côtes du Rhône wines, artisanal charcuterie from Ampuis, fresh frîtes from the Rhône valley and local cheeses... will all delight your tastebuds!
The chefs' glass jar dishes - Cybèle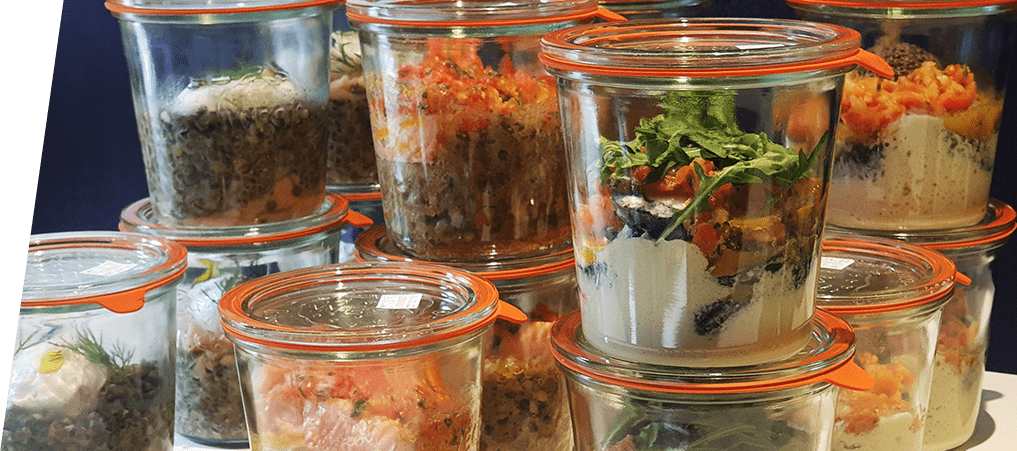 Discover the new mason jar recipes developed specially for Jazz à Vienne. The menu for this year's edition of the festival has been crafted by four chefs who have devised recipes that can be served in reusable mason jars. This summer, enjoy eight savoury dishes - half of which are vegetarian or vegan - giving pride of place to seasonal produce and the chefs' own specialities.
The aim is to establish this principle going forward and to involve different restaurant chefs from the region every year.
Our 100% local on-the-go menu - Théâtre Antique & Cybèle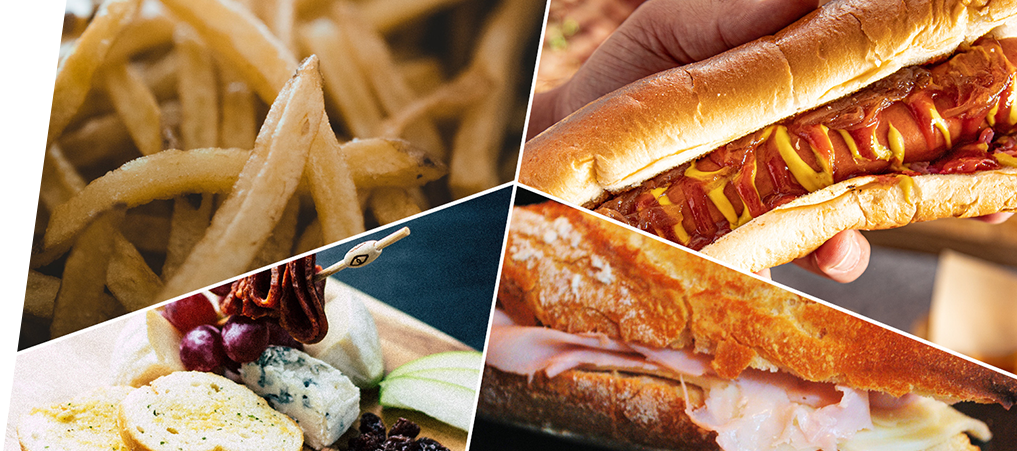 This summer, enjoy fresh frîtes made from potatoes harvested just 12 km (approx. 7 mi) from the festival via the ReColTer platform. ReColTer brings together thirty farmers from the Isère, Loire and Rhône, all located between Vienne, Lyon and Saint-Étienne. The origin and variety of the potatoes were specially selected for the festival. Within just three days, the harvested potatoes are ready to be turned into delicious fresh frîtes!
Our Viennese hot-dog was specially designed for the festival with the butchers and charcutiers at Maxime Dailland's D48 (pork raised in the AURA region) located just 5 km (approx. 3 mi) from Cybèle as the crow flies, as well as with baker Alexandre Masse at L'Adresse bakery (brioche buns made with flour from the Loire region). L'Adresse also offers a fully vegetarian sandwich made from local and seasonal products.
Homemade ketchup and crème Rigotte - made from Condrieu's famous goat cheese - make an excellent accompaniment to the Viennese hot-dog and fresh frîtes.
Local artisans will also be putting their skills on display with their sharing plates: trilogy of rigotte de Condrieu cheeses from the Chasse Nuage farm, pork rillettes from the Croisée des vents farm and Murgat trout rillettes from Le Fumé des Gourmets in Vienne... The artisan bakers at Pain & Cie in Estrablin will be offering a range of sandwiches and savoury tarts at the Théâtre Antique every evening. These are made exclusively from ingredients from the Auvergne-Rhône-Alpes region.
Our crêpes are made from 100% local ingredients: eggs from Tupin and Semons, flour from Estrablin and milk from Vienne. Topped with a delicious spread made locally in the Loire region, they are bound to delight young and old at any time of day and night!
Artisanal ice cream - Théâtre Antique & Cybèle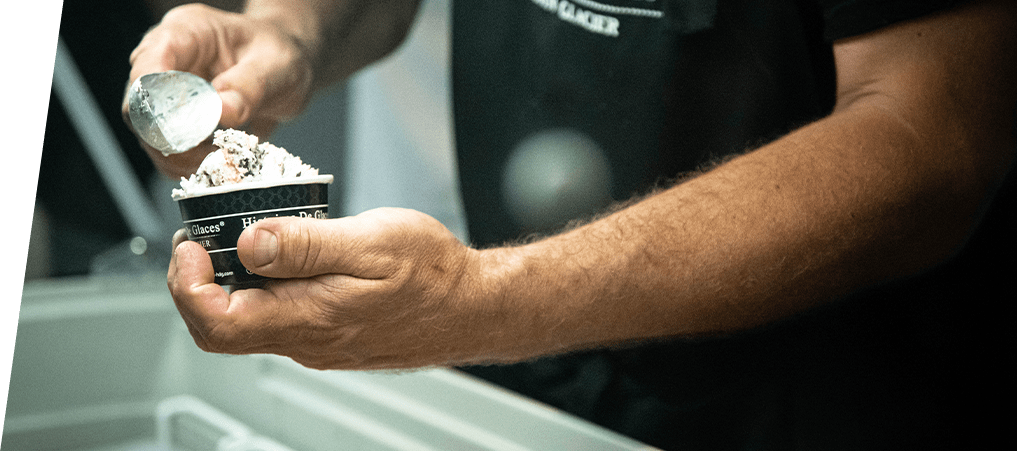 Established in 2003 less than 15 km (approx. 9 mi) from the Antique Theatre, at any time of day and night, Histoires de Glaces offers a vast array of sorbet and ice cream flavours. Peaches and apricots from the Drôme region, pears from Savoie, chocolate from the Chocolaterie Weiss in Saint-Étienne and pralines from the Maison de la Praline in Roanne are merely some of the ingredients used in products that are the pride of artisanal French ice-cream making.
This year, try the Jazz à Vienne flavour made from white, Rhône Valley peaches and a verbena infusion. Available exclusively at Cybèle and the Théâtre Antique.
The Ninkasi brasserie - Théâtre Antique & Cybèle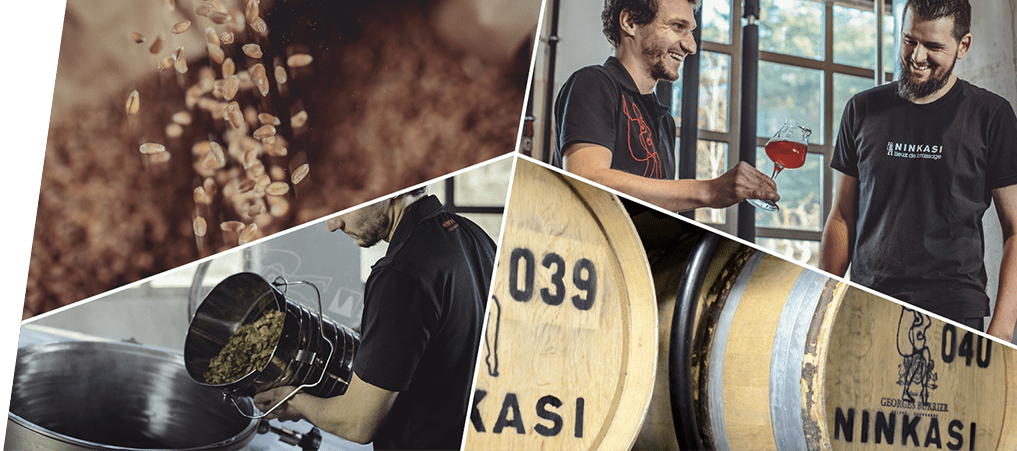 The Ninkasi brewery is committed to managing its environmental impact; it works to promote sustainable and responsible agriculture; and it actively promotes artistic expression — it was made to become Jazz à Vienne's official brewer! These shared values are the bedrock of our collaboration, allowing us to offer beers that are even more local and sustainable.
Ninkasi beers are developed and brewed in the Rhône department in line with Lyon's brewing tradition. Light, intense, fruity... Since 1997, the Ninkasi range has been offering a plethora of flavours and a touch of originality. Its beers are made with selected ingredients, including 100% French Pilsen malted barley.
In all the Jazz à Vienne and Ninkasi bars, you will find the historic Ninkasi Blonde, Ninkasi Blanche (White) and Ninkasi French IPA, a 100% French beer. The more adventurous can also try the emblematic Ninkasi Pale Ale, as well as the Jazz à Vienne Summer Ale, a dry and thirst-quenching beer with woody notes from being aged on chips of French oak, as well as notes of banana and clove. The Summer Ale is brewed with Volca Pils malt from Auvergne.
The wealth of local wines - Théâtre Antique & Cybèle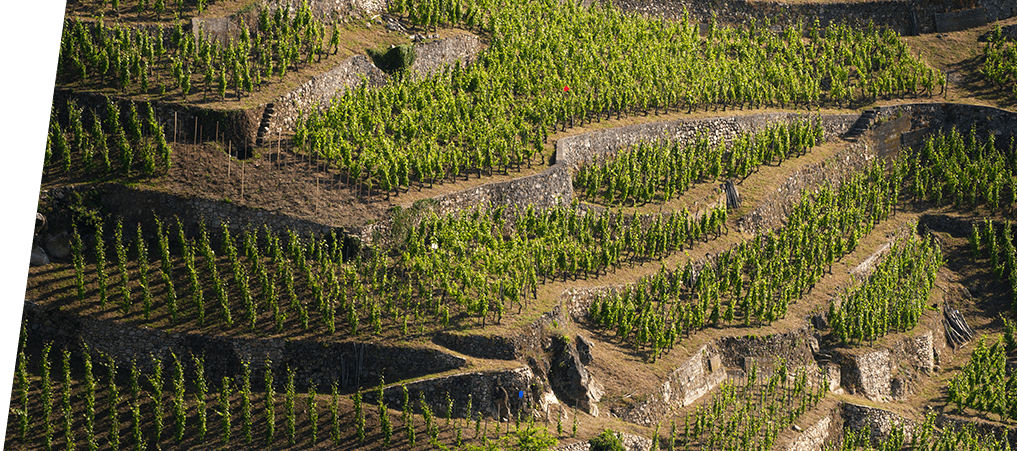 Vienne is nestled among vineyards and its surroundings are home to the two most prestigious protected designations (AOC) in the Rhône valley: Côte-Rôtie and Condrieu. Thanks to our collaboration with Inter Rhône, which brings together wine-growing and trade professionals from the Rhône valley, festivalgoers will be able to experience these local grands crus and discover the region's protected wines (AOC). Throughout the festival, the Cybèle wine bar will be offering eighteen delightful wines from the Côtes-du-Rhône, Côtes-du-Rhône Village, Saint-Joseph, Saint-Péray, Condrieu and Côte-Rôtie protected areas (AOC).
The Clairmont winemakers collective will be offering its range at the Théâtre Antique's bar. Prepare to savour wines from the Collines Rhodaniennes IGP: a 100% syrah red and rosé from Isère and a 100% chardonnay from the southern part of Crozes-Hermitage.
The Jazz à Vienne cuvées - Cybèle
For almost two decades, Jazz à Vienne has collaborated with François Villard, Pierre Gaillard, Yves Cuilleron, Yves Gangloff, Jean-Michel Gerin and Les Vins de Vienne to offer two special cuvées of Condrieu and Côte-Rotie. The cuvées will be on sale. Collector's boxes will be available from day one of the festival in Cybèle's pop-up shop. This special blend will also be available at the festival's partner restaurants and wine cellars. Please note that there is a very limited supply of these cuvées.
Melody Gardot will be following in Jamie Cullum and Gregory Porter's footsteps as the godmother of this year's cuvée!
Local & zero-waste soft drinks - Théâtre Antique & Cybèle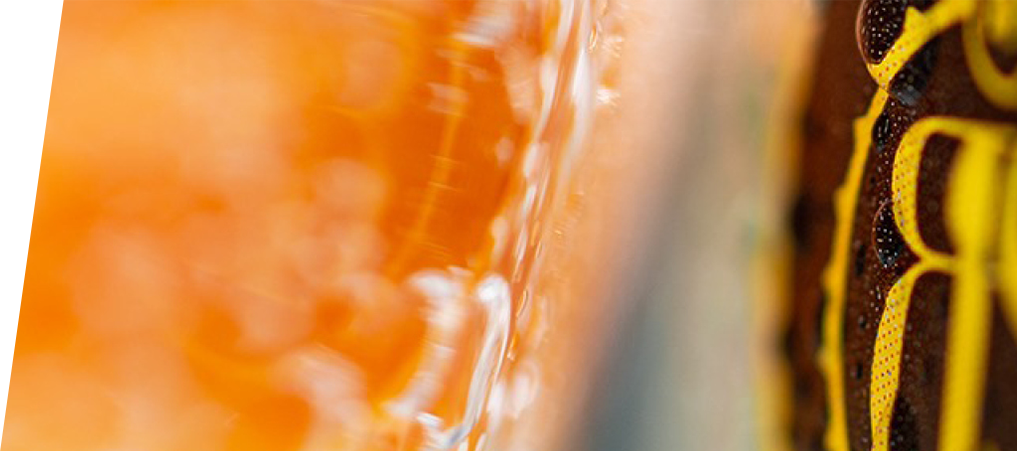 In its commitment to provide access to the very best local products, Jazz à Vienne has teamed up with the Brasseurs Savoyards to offer fully organic and artisanal lemonade made with water from the Alps. There is also an organic and artisanal iced tea on the drinks menu. This is made by infusing whole leaves of black and Darjeeling black tea, flavoured with lemon and a hint of mint. A small drop of organic cane sugar is also added. In line with the festival's commitment to reducing its environmental impact, our teams have encouraged suppliers to come up with alternatives for the packaging of soft drinks. The lemonade and iced tea will be packaged in 20-litre barrels so that they can be served on tap.
The festival has also teamed up with farmers and producers Nicolas and Jérôme Ogier to offer 100% local juices made using fruit from Simandres, Serpaize, Communay, Chuzelles, Seyssuel and Vienne. Both their pear and apple–raspberry juices will be available at Jazz à Vienne, but this time, they will come in 5-litre bag-in-boxes to limit the use of containers and disposable items.
Finally, for the very first time, both young and old will be able to enjoy Maison Bigallet's cordials at Jazz à Vienne. Maison Bigallet was founded in 1872 in Lyon and is now based in Virieu-sur-Bourbre in Isère. Certified fair, supportive and responsible, it sources fair-trade sugar and produces an organic, hand-brewed range using fruits from a local supply chain: blueberries and chestnuts from the Ardèche, blackcurrants from the Drôme and Ardèche, raspberries from the Ardèche and Haute-Loire, mint from the Drôme...
Free water fountains - Théâtre Antique & Cybèle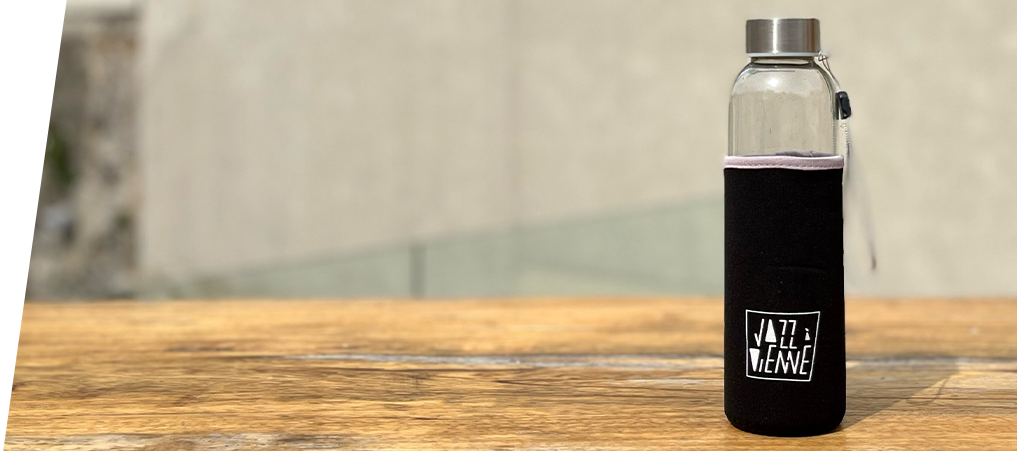 In 2022, the decision was reached to stop offering plastic water bottles: neither were they sold, nor were they provided to the artists and teams (volunteers, technicians and employees). On a typical year, this means the waste from over 35,000 plastic bottles can be avoided. In partnership with Vienne Condrieu Agglomération, which has been in charge of providing drinking water in the area since January 2020, water fountains will be installed in the Théâtre Antique and Cybèle to provide free access to fresh water. Bring your reusable bottles! Nevertheless, if necessary, cups will be made available via a deposit scheme.
Please note that cups other than those provided at the festival will not be accepted.
Limited, 100% biodegradable packaging
In its commitment to waste reduction, Jazz à Vienne has carefully thought about packaging from its bars and restaurants. On the catering side, the material used to wrap sandwiches, as well as that used for cornets of frîtes and cheese and charcuterie boards is 100% unbleached cellulose. Once it has been used, it will be recovered in the 'biodegradable' sorting bins and composted. The same applies to the ice-cream cups, ice-cream spoons and paper towels that will be provided.
In the bars, the beers, lemonade and iced tea will be served from reusable barrels. The fruit juices and part of the wine range will be delivered in 5 and 10 litre bag-in-boxes, while the other drinks (Rhône Valley wines and Bigallet cordials) will be served in glass bottles that will be recycled. All other containers at the festival will be 100% reusable: glass jars, stainless steel spoons, wood for the charcuterie/cheese boards and sharing portions of frîtes.
In 2022, to promote their reuse at the festival and other events, the decision was made to use entirely neutral glasses. Indeed, past editions of the festival have shown that neutral and unmarked wine and beer glasses provided through deposit schemes tend to be returned more frequently.
Furniture made in Vienne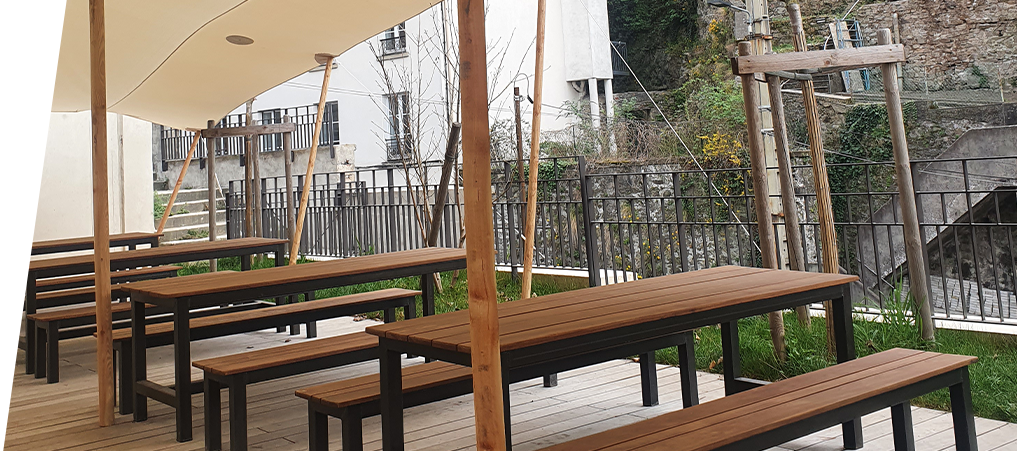 At Cybèle, you can take a seat on furniture made especially for the festival by the vocational students at Vienne's Galilée high school. Every year, Jazz à Vienne and Galilée high school team up for a pedagogical project involving furniture design, as well as the creation of objects made available throughout the festival. The food court at Cybèle will therefore be equipped with tables, benches and stand-up tables built by students studying sheet metalwork, carpentry and machining. As in the case of other initiatives led by the teams at Jazz à Vienne, this project helps include groups from around the area and it highlights their skills. All the furniture is put on sale during the festival and profits are donated to the high school to finance future projects.